Join us on 1 & 2 October 2018 and visit the EXPO DESTINATIONS FOR ALL the Accessible Tourism Exhibition and discover accessible destinations, products and services from all over the world.
Complimentary and open to everyone, Expo Destinations for All is a unique opportunity to showcase innovation in terms of accessible destinations worldwide. This 2018 edition will welcome a variety of participants and key players that welcome people with special needs thanks to the development and promotion of accessible destinations for all.
Join us and discover accessible destinations around the world at the
'EXPO Accessible Tourism'!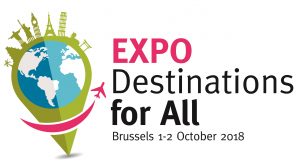 WHAT: EXPO Accessible Tourism
DATE: 1 & 2 October 2018
TIME: 14h00 – 18h30
LOCATION: The Egg Brussels
ADDRESS: Bara Street 175, 1070 Brussels
ACCESS: Free entrance
CONDITONS: Pre-registration to the EXPO is required.
Please follow us on Facebook and register to the EXPO: www.Facebook.com/expodfa
Register for the EXPO for free on 1 October 2018
Register for the EXPO for free on 2 October 2018
Discover the World of Accessible Tourism – Check out the exhibitors here. 
Join us and discover more onsite!